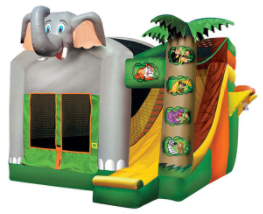 Safari Combo
Features: Built-in Step, Moonwalk, Slide, 2 Basketball Hoops and obstacle course.

The Safari Combo is great for children of all ages. This 4 in 1 inflatable jump-house has basketball hoops, ideal fun for everyone. This Jump-house will be a great centerpiece for your next party.your next party.
Length: 18'0″
Width: 17'0″
Height: 16'0″
Weight Capacity: up to 1,000 pounds
Participant Capacity: up to 10
For an additional cost of $5.00 you can rent an extension cord
Please make sure NO PET WASTE is located where the inflatable will be placed of be subject to an animal waste fee.