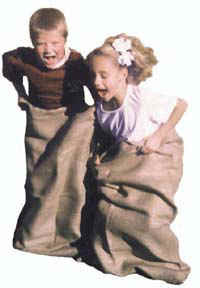 Potato Sack Race
Ideal For: Ages 2-10
Set of 6
Looking for a fun and exciting activity for your next outdoor event or party? Look no further than our Potato Sack Race! This classic game is perfect for all ages and will have everyone laughing and cheering as they hop their way to the finish line.
Our Potato Sack Race comes with high-quality, durable sacks that are made to withstand repeated use. The sacks are made from a sturdy material that is both comfortable and easy to grip, ensuring that participants can hop and jump with ease.
Setting up the Potato Sack Race is quick and easy. Simply lay out a course with markers or cones and let the fun begin! Whether you're hosting a backyard barbecue, a school field day, or a corporate team-building event, our Potato Sack Race is sure to be a hit.
So why wait? Order your Potato Sack Race today and get ready for a day of fun and excitement!