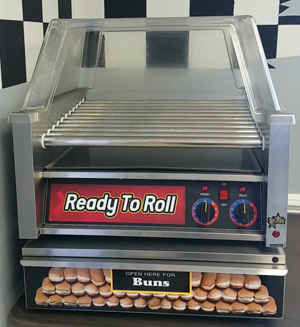 FE-Hot Dog Roller w/ Bun Warmer
The Star Grill Max Pro Hot Dog Roller for up to 30 hot dogs plus a bun holder. That is not all! You can also use this Roller to cook all of your favorite roll-able snacks, like taquitos, breakfast burritos, egg rolls and even bratwurst making this the perfect machine for fundraisers, tournaments and even family parties.
Details: The Star Grill Max Pro, features a dual heat control allowing you to cook hot dogs or your food of choice while keeping others warm or you choose to use the whole grill to cook for higher demand.