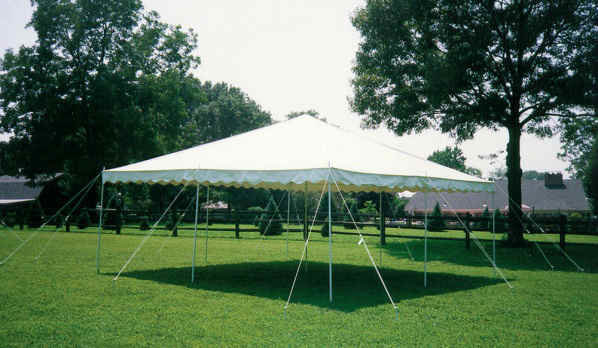 30' x 105' Canopy-Blue & White
Pole tents provide a traditional look and feel to any event. Quality materials, attention to detail and easy installation. Canopy pole tents are great as party tents, carnival tents or any outdoor event. Side and center poles. Center poles are at 10' centers. Each tent has the ability to put up sidewalls.

Canopy Tents can ONLY be installed on Grass surfaces.
Capacity Seated 315Fits 31- 8ft Banquet Tables

*IMPORTANT* Please notify us if you have any underground electrical or sprinkler systems (Or anything that would prohibit us from staking down the tent). This must be known because there are multiple 2 1/2' stakes that are put into the ground to keep the tents up. (stakes go in 1' to 1 1/2' into the ground)
• Please have marked the location of where the tent is going before delivery, you can use sticks in the ground, paint, furniture or anything else - This helps us greatly with efficiency.