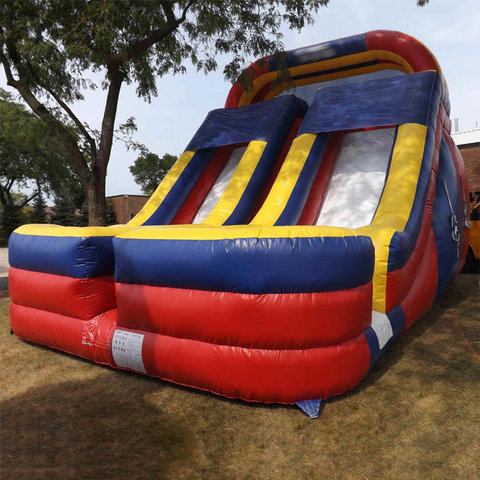 24' Dual Lane Slide
Introducing our 24-foot Dual Lane Slide! This impressive inflatable slide is perfect for any event or party, providing hours of fun and excitement for both kids and adults. With two lanes side by side, this slide allows for friendly competition and racing to see who can reach the bottom first. The vibrant colors and eye-catching design will draw in guests and make your event stand out. Made with durable materials and built to withstand heavy use, this slide is perfect for backyard parties, school carnivals, church events, and more. Safety features such as tall side rails and a secure entry and exit point ensure that everyone can enjoy the slide with peace of mind. Easy to set up and take down, this inflatable slide is a must-have for any event planner or party host looking to add some excitement to their next gathering. Don't miss out on the fun - order your 24-foot Dual Lane Slide today!
15'W x 33'L x 24' Tall Weight Capacity 500lbs
For an extra cost of $5.00 you can rent a 50ft extension cord
Please make sure NO PET WASTE is located where the inflatable will be placed of be subject to an animal waste fee.