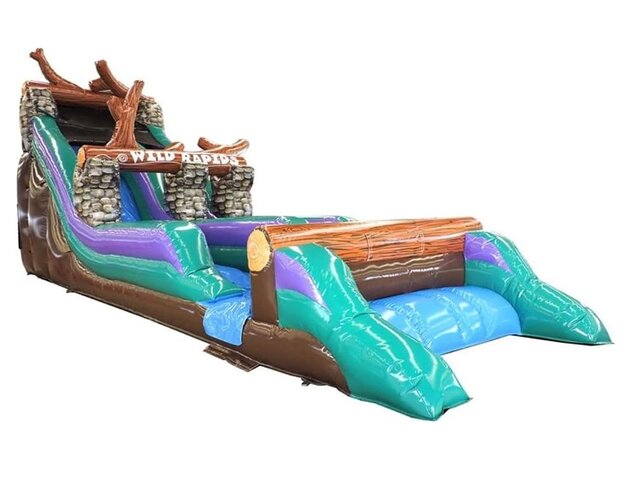 21' Wild Rapids Water Slide
Conquer the rushing waters of the 21' Wild Rapids Inflatable Water Slide!
Riders take on the challenge of avoiding fallen trees, rocks, and rapids on an inflatable water slide that stretches out a whopping 43' in length. This 21' tall slide features bright colors, life-like rocks, and logs to make it feel like your riding real-life rapids. With its gender-neutral colors, this versatile inflatable can be employed for an all age event, allowing for the potential to double your return on this investment! Try out this inflatable slide on a cool day without water for some fun and entertainment or simply connect a standard garden hose to the built-in misting system and dive into some refreshing relief from the summer heat! All of our inflatable wet / dry slides were designed with children's safety at heart, featuring an inflated landing zone with built-in drains that keeps the water level low enough for a good time, but safe enough for kids and adults of all ages.
For an additional cost of $5.00 you can rent a 50ft extension cord
43' L x 11' W x 21' H