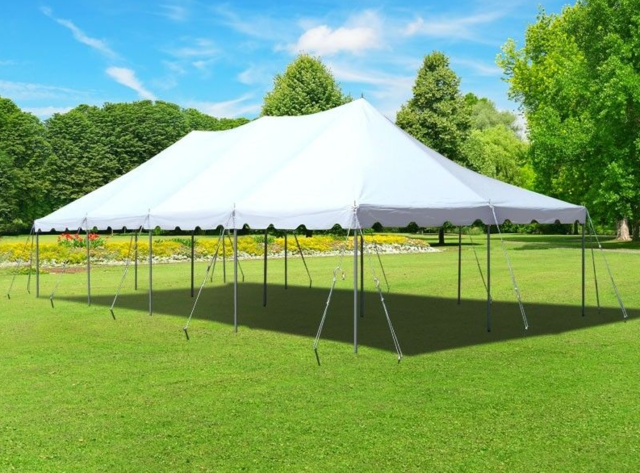 20' x 40' Premium White Canopy
Pole tents are best suited for setup on grass or on soft surfaces. Pole tents may be utilized on blacktop or asphalt; however, this installation will require the use of heavy-duty stakes and a stake driver for drilling into the ground. Usage on concrete surfaces is not recommended.Our commercial-grade 20' x 40' Premium Canopy Pole PVC Tent is an excellent addition to any party tent rental or event business. This 20' x 40' Premium Canopy Pole PVC Tent in white is ideal for events like weddings, graduations, church functions, picnics, reunions and more. This premium-grade 20' x 40' tent can accommodate up to 160 standing guests. It features quick and easy construction and is made from the best durable materials that are designed to provide you with years and years of use.These pole tents are a classic type of party and event tent; this popular style has a classic look that is a result of the center tent pole that supports the vinyl tent top. The top is then stretched across to the side poles.
You'll appreciate the durability of this high-performance tent top, which is constructed from our best blockout PVC vinyl material. This PVC material is 100% waterproof and is resistant to mold, mildew and flame. It is also has a strong, durable finish and is additionally coated for UV protection. Further, this easy-to-care-for product will not show staining. The top has reinforced aluminum plates sewn into all points for heavy-duty installation and 1" heat-sealed bonded seams for added strength and durability. Ropes have been permanently installed into the top, allowing for the addition of sidewalls. Although all necessary hardware is included in this tent kit, additional accessories, add-ons and sidewalls are sold separately and are available in both windowed and windowless tyles. There are also multiple sidewall sizes available so you can accommodate your specific needs.The side and center poles are constructed from heavy-duty anodized aluminum. Anodized aluminum is an ultra-durable, lightweight alternative to steel poles that is highly resistant to rusting and corrosion that won't stain your tent tops or sidewalls.
Seating Capacity
80 guests for a sit-down dinner
133 guests for cathedral (row) seating
160 guests for a cocktail party