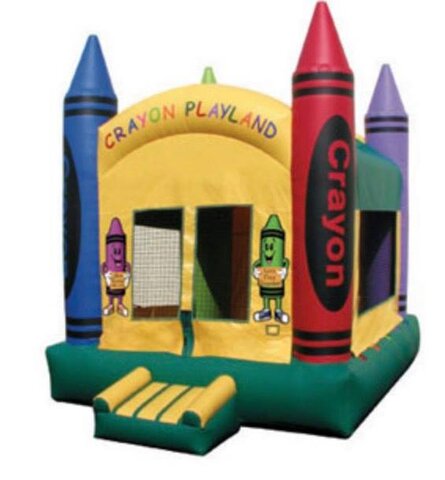 15' x 15' Crayon Playland
Introducing the Crayon Playland, the perfect addition to any indoor playground or backyard play area! This vibrant and colorful inflatable playland is designed to provide endless hours of fun and entertainment for kids of all ages.
Crafted from high-quality, commercial-grade materials, the Crayon Playland is built to last and withstand even the most enthusiastic play. With its spacious interior and multiple play areas, kids can jump, climb, slide, and crawl to their hearts' content.
The bright and cheerful crayon-themed design is sure to capture the attention of little ones and inspire their imaginations. The inflatable walls and safety netting ensure that kids can play safely and securely, while the easy-to-use blower makes setup a breeze.
Whether you're looking to add a fun and exciting new feature to your indoor playground or create an unforgettable backyard play area, the Crayon Playland is the perfect choice. Order yours today and watch as kids of all ages light up with joy and excitement!

Size: 15' x 15' and 14' Tall

Features a built-in step to make it easier to get in and out of the bounce house.Capacity 8-12 at one time
Weight Limit 300-1000 For additional cost of $5.00 you can rent an extension cord
Please make sure NO PET WASTE is located where the inflatable will be placed of be subject to an animal waste fee.