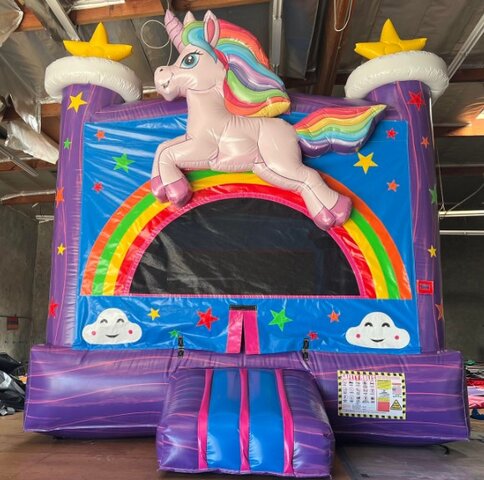 13' x 13' Magical Unicorn
Introducing the enchanting 13' x 13' Magical Unicorn, a captivating addition to any celebration or event. This inflatable bounce house is sure to transport children and adults alike to a whimsical world of fun and imagination.
Crafted with meticulous attention to detail, the Magical Unicorn features vibrant colors and intricate artwork that brings the mythical creature to life. Its spacious 13' x 13' interior provides ample room for energetic bouncing, ensuring hours of entertainment for all.
Made from high-quality, durable materials, this bounce house is built to withstand hours of playtime. Its reinforced stitching and commercial-grade vinyl construction guarantee long-lasting enjoyment, making it the perfect investment for party rental businesses or personal use.
Safety is a top priority, and the Magical Unicorn is no exception. Equipped with safety netting on all sides, it provides a secure environment for children to enjoy themselves while preventing any accidental falls. The entrance ramp allows for easy access, ensuring hassle-free entry and exit.
Setting up the Magical Unicorn is a breeze, thanks to its user-friendly design. Inflating in minutes with the included blower, this bounce house can be ready for action in no time. Its compact size when deflated makes storage and transportation a breeze, allowing you to take the magic wherever you go.
Ideal for birthday parties, family gatherings, school events, or any occasion that calls for a touch of enchantment, the 13' x 13' Magical Unicorn promises endless joy and laughter. Watch as the smiles light up on the faces of children as they bounce, play, and let their imaginations run wild.
Create unforgettable memories and make your event truly magical with the 13' x 13' Magical Unicorn. Order now and let the enchantment begin!

Size 13' x 13' and 15' Tall Weight Capacity: 500Capacity of 5-9 at one time

Features a built-in step to make it easier to get in and out of the bounce house.

For additional cost of $5.00 you can rent an extension cord
Please make sure NO PET WASTE is located where the inflatable will be placed of be subject to an animal waste fee.0