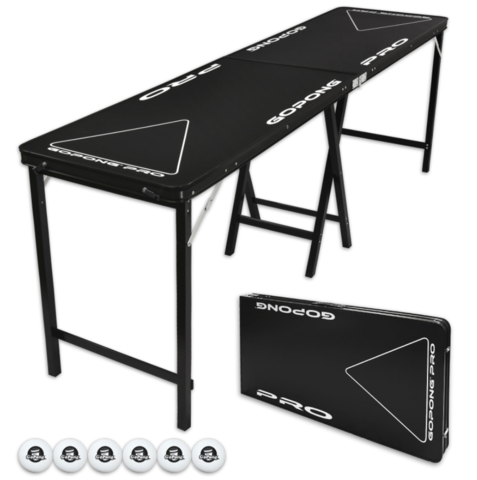 Pro Series Beer Pong & Flip Cup Table
Features:
PARTIES AND BARS: Perfect for get togethers, 36" table height with ultra sturdy construction
PRO DESIGN: Black Powder Coated Aluminum Frame
BEER SPILLS: Playing surface made of reinforced, waterproof MDF
HEAVY DUTY: Sturdiest table on the market guaranteed
EASY STORAGE: Table folds down to convenienty store when not in use
You asked for a taller, sturdier beer pong table that wouldn't break the bank and we listened. The GoPong PRO table elevates the playing surface from the traditional table height of 27.5'' (mid thigh height) to a more natural height of 36'' (waist height).
Introducing the Pro Series Beer Pong & Flip Cup Table, the ultimate party accessory for any beer pong or flip cup enthusiast! Built with high-quality materials, this table is designed to withstand hours of intense gameplay and partying.
The table features a sleek and stylish design, with a smooth playing surface that ensures optimal ball bounce and accuracy. The surface is also waterproof and resistant to spills, making it easy to clean and maintain.
The Pro Series Beer Pong & Flip Cup Table is also highly portable, with a lightweight and foldable design that makes it easy to transport and store. It can be easily set up in minutes, making it the perfect addition to any party or event.
Whether you're hosting a backyard BBQ, a tailgate party, or just a fun night in with friends, the Pro Series Beer Pong & Flip Cup Table is the perfect accessory to take your party to the next level. Order yours today and get ready to have some serious fun!