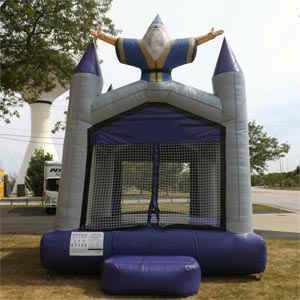 13' x 13' The Wizard
The Wizard inflatable is the perfect addition to any party or event. This vibrant and colorful bounce house is sure to capture the attention of children and adults alike. With its spacious 13' x 13' interior, there is plenty of room for kids to jump, bounce, and play. The inflatable walls and safety netting provide a safe and secure environment, while the mesh windows allow for easy supervision. The Wizard inflatable is made from high-quality materials that are designed to withstand the wear and tear of regular use. The sturdy construction ensures that the bounce house will remain stable and secure, even during the most energetic play sessions. The inflatable also features convenient tie-downs and anchor points, making it easy to set up and secure in any location. Whether you are hosting a birthday party, school event, or community gathering, the Wizard inflatable is sure to be a hit. With its colorful design, spacious interior, and durable construction, this bounce house is the perfect way to add excitement and fun to any occasion.
Features a built-in step that makes it easier for younger children to get in and out.

Size: 13' x 13' and 14' Tall
Weight Capacity: 200 - 800 lbsFor an additional cost of $5.00 you can rent an extension cord
Please make sure NO PET WASTE is located where the inflatable will be placed of be subject to an animal waste fee.